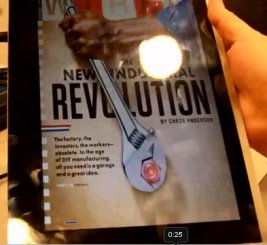 Android Tablet with Adobe Flash, Gunning For iPad
Apple's iPad tablet has taken the world – actually just the United States so far and then the world on May 10th – by storm with its smooth design, sleek functionality, and of course the Apple brand that everyone has come to love.
But you better believe that with the success of the iPad, there is obvious demand for tablets and so competitors are gearing up and getting ready to jump in the market place with both feet.
Android powered tablet with Adobe Flash
Let's welcome the Android powered tablet that actually runs Adobe Flash.
I'm of the opinion that Adobe is on a mission to partner with Google – the developers of the Android OS – to ultimately produce the best tablet device on the plant.
How come?
Because Steve Jobs (Apple CEO) wrote a scathing letter about the inefficiencies of Flash, and gave a long drawn out dissertation as to why the iPad and iPhone will not be running Adobe Flash.
According to Steve Jobs, Flash is buggy.
And Adobe has been so offended at this they have actually considered taking legal action against Apple.
So what does this new Android power tablet offer?
Let's take a look at the video below and see the Android powered device running with Adobe Flash: