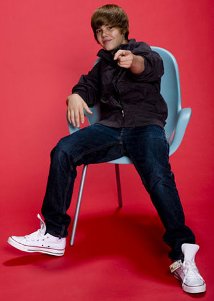 Justin Bieber, Oprah Winfrey Show Interview
Justin Bieber appeared live on the Oprah Winfrey on Tuesday (2 days ago). The Oprah Winfrey Show will broadcast the Justin Bieber interview on Tuesday, May 11th.
So you fanatical Justin Bieber fans better mark your calendars right now – Justin Bieber's Oprah appearance will air on Tuesday, May 11th.
According to a writer at Examiner.com, it is believed that Oprah will pursue the "A-Typical Oprah interview" with "a giant dose of the familiar — such as how he started out on Youtube, was discovered by Usher and Scooter Braun and ultimately became the reincarnation of past teen heartthrobs like Hanson and The Backstreet Boys."
Oprah tailors to a more mature crowd however, so I'm expecting her questions to be more geared toward how he is dealing with his crazed fans, and his world-wide fame as such a young kid.
I also believe that Oprah will ask him about things such as his parents, school, and other questions that "moms" might ask as well.
It is obvious that for someone so young, the world-wide fame can be something that might be difficult to deal with. Things such as security and body guards, death threats on Twitter, and other dramatic instances might be challenging for Justin Bieber. And I'm sure that Oprah will be want to know how he deals with such things.
Ultimately, The Oprah Winfrey show might just set an all time high viewership on May 11th when Justin Bieber airs on TV.
The world goes crazy over anything to do with Justin Bieber, including something as little as a couple of Justin Bieber photos.