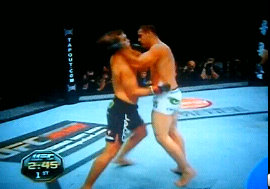 Shogun Knocks Out Machida (Knock Out Video)
The fight only took 1 round, and Shogun eventually got the better of Machida in the UFC 113 fight that took place in Canada last night. Below you can watch as these 2 highly skilled, and very meticulous fighters worked their way through the first round, with Shogun and Machida exchanging blows, kicks, and take downs.
At any point, it was clear that either Shogun or Machida could very easily have knocked the other out, or quickly gained the advantage with one strike – however, Machida and Shogun exchanged blows for most of the first round.
The situation turned south when Machida looks like he simply got caught with his guard down for only a brief second, however that was enough for Shogun to sneak in a direct hit to the chin, stun Machida and send him to the ground. At that exact moment, Shogun saw the opportunity > pounced on Machida and started a flurry of swings and hits on Machida's face. From the looks in the video, it only took a couple of direct hits to Machida, and Machida appearing unresponsive to the hits, that the UFC ref stepped in and called the fight off!
Check it out below – here's the video where Shogun knocks out Machida: