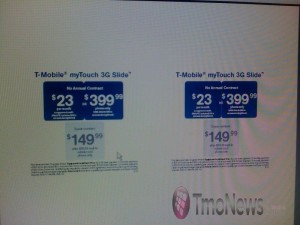 For those of you that are onT-Mobile network and are waiting for the MyTouch 3G Slide might not have to wait to much longer. I have just found the price of the handset & rumored release date. According to Tmonews the MyTouch 3G Slide is going to cost a $149 dollars on a two-year contract & $399.99 without a two-year contract or $23 dollars a month. The rumored release date for the handset is supposed to be June 16th. So if you want to learn more about the MyTouch 3G Slide feel free to go to the related post links & tell me what you think of the handset?
Related Post: Hands on video of Mytouch 3G Slide
T-Mobile Announces the MyTouch 3G Slide
Source:TmoNews
Josh Uhlemeyer,
Former Author of Mobile News Now.