New HTC Smartphone, HTC Wildfire has announced today by HTC that will adopt Android OS. This new HTC smartphone will come to market with Android 2.1 and other popular HTC features. HTC Wildfire equiped with 525MHz Qualcomm prossesor (MSM7225), also Wi-Fi and Bluetooth.connection. Run with 384MB internal RAM and 512 of flash storage. Upgrade flash storage upto 4GB maximum for the best performance. With 3.2inch touchscreen display, 5MP auto-focus camera with a built in flash this HTC Wildfire will give clear image photoshot for its user. Hear the sound of music with 3.5mm audijack and built-in stereo speakers.
Integrated with social networks application "Friend Stream", HTC wildfire give more attractive smartphone with its touchscreen and let user to share pictures and update information easily. Will launch to market at 3rd quarter of 2010. Lets wait HTC Wildfire hit the market on this September 2010.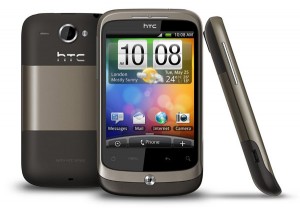 HTC Press Release
LONDON – 18 May, 2010, 07.00 CEST – HTC Corporation, a global designer of smartphones, today introduced HTC Wildfire™, a new HTC Sense-based Android phone that integrates the most popular social networks to help bring your friends closer to you. HTC Wildfire closely follows the success of the acclaimed HTC Desire and makes the company's signature HTC Sense experience accessible to a younger audience.

"Today's social networks provide an essential forum for friendship with more than 400 million users* – many of whom are young adults – actively sharing their lives with their friends through Facebook," said Florian Seiche, Vice President, HTC EMEA. "HTC Wildfire makes the HTC Sense experience available to young mobile users for the first time. It brings all your communications into one place, whether it's through Facebook, Twitter, text messages, images or email, ensuring that you are never far away from the conversation and always close to your friends."

HTC Wildfire helps you stay connected with those who are most important to you through HTC Sense, a user experience focused on putting people at the centre by making phones work in a more simple and natural way. You won't miss out on the fun as HTC's Friend Stream application seamlessly gathers and displays content from social networks like Facebook, Twitter, and Flickr into one organised stream of updates. HTC Wildfire enables you to stay up to date with your friends' posts, comments, alerts and photos, wherever you are.

In addition, each contact viewed in HTC Wildfire's address book includes a thread of recent communications with that person, including when you last spoke, recent text messages and emails, and social network updates. When your friend calls, HTC Caller ID displays their Facebook profile photo and latest update, as well as a reminder if their birthday is fast approaching.

Thanks to a new app sharing widget, HTC Wildfire enables you to recommend an application by email, text message or over social networks. Your friends will receive a link allowing them to find the application on the Android Market with a single click and download it to their phone.

Florian Seiche continued, "We understand that people need a better way to navigate their way through the tens of thousands of applications that are currently available on the Android Market. In fact, our own independent research found that consumers are not only hungry for the latest and most popular applications that their friends are using, they want an easier way to find and download them. For the first time ever, you can recommend the newest and coolest apps to a friend or group of friends with HTC Wildfire. With so many applications to choose from, there's a world of content to discover and pass along to your friends."

HTC's latest advanced smartphone is great for viewing and sharing photos on Flickr and for surfing the internet thanks to its 3.2-inch capacitive touch screen. A five-megapixel camera with auto focus and LED flash allows you to capture special moments, while a 3.5mm audio jack and micro SD card slot mean you are never without your favourite songs.

Availability
The new HTC Wildfire will be broadly available to customers across major European and Asian markets from Q3 2010.