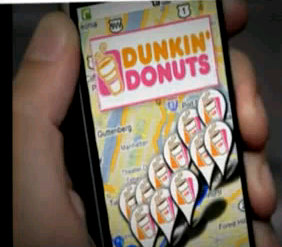 Google Mobile 'Whisper Ads' Display Ads As You Talk (Video)
This video is hilarious! The Onion put together this great Google Whisper Ads video to show how Google might one day soon be presenting ads on your mobile phone based on keyword identification in your phone conversation.
The intention of the concept is that ad supported phones (ad presentation during your phone conversation) will help to drive down the cost of mobile phones.
I thought that by now, Google would be giving phones away for free. In fact, I wrote back in February about how I believe that the future of mobile phones will in fact be free mobile phones.
The funniest part of the video below is the 911 call – ads coming across the phone during your 911 call would be awesome.