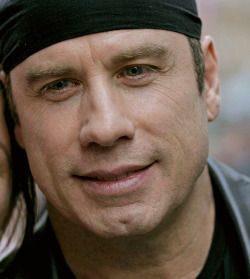 More sad news for the Travolta family. Last year, Kelly Preston and John Travolta's son Jett died in the Bahamas of an apparent seizure. Last week their beloved pets were accidentally struck and killed by a Bangor International Airport employee while the assistant was walking the two small dogs. There were few details available. It is not clear whether charges will be filed, what breed the dogs were, if they were on leashes, or whether Travolta was flying the aircraft that night.
BREAKING NEWS: John Travolta, Kelly Preston Three Months Pregnant? Expecting a Baby in…
Travolta, actor of hit movies Grease, Saturday Night Fever, Pulp Fiction, and as Vinnie Barbarino in the TV series Welcome Back, Kotter, was in Maine on May 13, 2010, presumably traveling to their home in Islesboro off the coast of Waldo County when the accident occurred.
Travolta is a certified pilot and owns five aircraft and flew his Boeing 707 full of supplies to help out with the Haiti Earthquake 2010 disaster. Travolta is a practitioner of Scientology which he has been involved with since 1975 when he read L. Ron Hubbard's book Dianetics: The Modern Science of Mental Health.  Travolta married actress Kelly Preston in 1991. The couple had two children: Jett, born on April 13, 1992, and Ella Bleu, born on April 3, 2000.
According to the Bangor Daily News, "At approximately 1 a.m. on Thursday, May 13, 2010, an airplane carrying members of the
John Travolta family landed at BIA. While there, two small dogs were taken for a walk by someone who is not a family member. An airport service pickup truck was approaching the airplane to service the airplane and did not see the dogs. Unfortunately, the dogs were struck and killed. The airport is investigating the accident. Out of respect for the family's privacy the city will make no further comment.
Airport Director Rebecca Hupp said normally it's the airport's policy not to comment on the identity of any passengers that come through Bangor, which is why, she said, she didn't release a statement immediately after the accident happened.
"The airport takes safety very seriously," Hupp said Monday afternoon. "Many flights come and go without incidents. Clearly, this is an unfortunate accident. Our deepest sympathies are with the family."

//