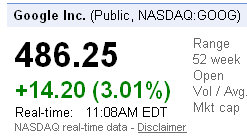 NASDAQ:GOOG – Google Android Beats Windows Mobile Marketshare
Google Android Sales Growth
Google share (NASDAQ:GOOG) are up in early morning trading with news that the Google Android mobile operating system is outgrowing Windows Mobile powered phones worldwide.
Google's stock price is currently up +14.23 (3.01%) at 486.28.
During the first quarter of 2010, mobile phones powered by Google Android OS soured 707 percent in sales which was enough to overtake the Windows Mobile market share worldwide, according to PCMag.com.
Worldwide mobile phone sales grew 17 percent in the first quarter to 314.7 million units. Of those, 54.3 million were smartphones, a 48.7 percent jump from the same period one year ago.
Google Android Market Share
Google Android's market share comes in at 9.6 percent (up from just 1.6 percent in Q1 2009), while Windows Mobile has now fallen behind at 6.8 percent (down from 10.2 percent).
As you can see, Windows Mobile market share is decreasing while Google Android market share in increasing.
Mobile OS Market Share
Symbian still leads the pack with 44.3 percent market share (down from 48.8 in Q1 2009). BlackBerry OS devices come in second at 19.4 percent (down slightly from 20.6), while iPhone OS rings in third at 15.4 percent (up from 10.5 percent).
Google Android OS outlook
Looking forward, Google Android's market share is sure to continue increasing. Google is looking at expanding their Android Operating System into TV's (Google TV), cars, and pretty much anything that has data displayed on a screen.