HTC EVO 4G, Some Customers Already Getting Their HTC EVO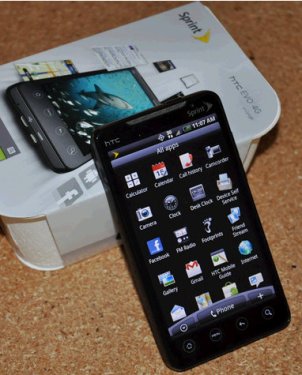 Some Sprint customers are already reporting that their HTC EVO 4G has arrived, and they are just now opening the package and playing around with their new phone.
HTCPedia is reporting that, "It is a fantastic day here at HTCPedia as I just received my HTC EVO 4G phone. As all of you know its official release day is June 4th, but I was lucky enough to get my hands-on one of these 10 days earlier.
The contents of the box are as follows:
HTC Evo 4G phone
1500mAh battery
USB data/charging cable
Wall adapter
User guides and manuals
Limited 4G Coverage
Even though some customers are already receiving their HTC EVO – 10 days early even – there is still the issue of limited coverage of the 4G data network.
And despite the fact that you might be in an area that does not yet have 4G coverage, you are still going to pay $10 a month for the data access.
Regardless of the limited coverage area, the HTC EVO 4G, powered by Google Android OS, is still going to be one of the hottest phone releases since the iPhone.