Top Kill Fail, Marine Cap Next & Live BP Oil Spill Live Feed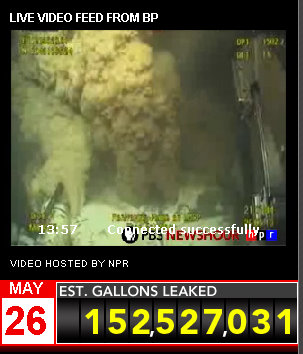 Well, we now know that BP's Top Kill procedure failed to stop the spewing oil from their oil pipe 5000 feet deep in the ocean floor. BP did not make any guarantees that the Top Kill procedure would work, and the BP CEO was very clear on the point. The procedure was risky and dangerous – what procedure won't be at those depth levels.
BP is now getting reading for their 3rd attempt at stopping the oil leak with a procedure they call Marine Cap.
The latest procedure involves slicing off the leaking pipe at the top of the well's broken blow-out preventer, placing a cap over the leak and channeling the captured oil and gas to a vessel on the surface. BP officials said the procedure could take from four days to a week, and it already has two different caps on the ocean floor, ready to be deployed.
BP didn't try this approach sooner because it feared the kinks in the pipe still attached to the blowout preventer were acting as a choke on the leak. Removing the pipe could lead to a more violent surge of oil.
Carol Browner, White House Energy and Climate Change Advisor, said Sunday on CBS's "Face the Nation" that the flow of oil could temporarily increase by 20% before the new device is put in place, according to The Wall Street Journal.
BP Oil Spill Live Video Feed
Perhaps the most perplexing aspect of this whole thing is that BP's live oil feed is not showing any oil spewing out from a pipe like we saw before. I'm wondering if BP has purposely shut off the live video feed that shows the spewing oil from the pipe?
Perhaps BP made the oil leak worse when they attempted the Top Kill procedure, and now they don't want to show the actual pipe anymore.