Pensacola, FL – Oil Slick To Hit Pensacola Beach Today (Video)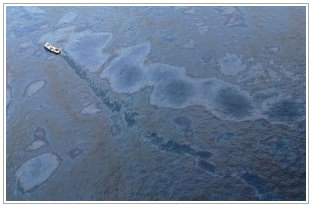 As the BP oil pipe continues to gush oil into the Gulf of Mexico, it is being reported that oil slicks are now approaching and threatening the Pensacola, Florida, and Pensacola beach line.
There are now reports that oil slicks have been spotted as close as nine miles from Pensacola Beach, directly off the Florida coast line. Pensacola officials are saying that the oil slicks from BP's spewing oil line could hit the white sands of Pensacola Beach as early as today!
Pensacola city officials are now well underway in preparation for the oil slicks to hit the Pensacola beaches, and booms were put out yesterday to help control the oil's arrival.
Meanwhile, crude oil has already been reported along barrier islands in Alabama and Mississippi, and it has impacted some 125 miles of Louisiana coastline.
The collateral damage to the gulf coast line could be immeasurable as BP continues in it's efforts to control the gushing oil from their broken oil pipeline some 5000 feet below the ocean surface in the Gulf of Mexico.
BP is currently underway with it's 3rd attempt had mitigating the BP oil spill with their top cap procedure. Previous attempts to stop the gushing oil have failed, and the American people's patience is beginning to wear thin!