HTC EVO 4G Speed – Has Anyone Hit 10Mbps?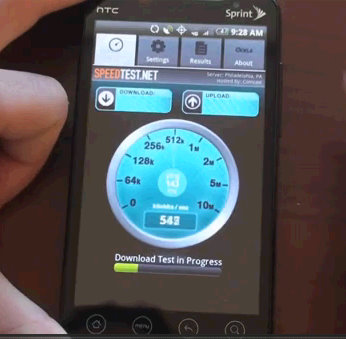 I've heard it said that Sprint's 4G WiMax network is capable of hitting speeds up to 10Mbps (10 megs) of download speed on a mobile device such as the HTC EVO 4G.
That is a pretty aggressive number if you ask me, especially since the Charter cable internet in my house was only getting about 5 megs of speed just about a year or so ago.
So now I'm curious to know if anyone out there with their new HTC EVO 4G, and of course you'd have to be in a 4G coverage area, has been able to hit 10 megs download speed?
Use SpeedTest.net app
A great way for you to test your 4G – or really any mobile phone internet speed – is to get the Speedtest.net app for your mobile device.
The Speedtest.net app will test your download and upload speeds of your current mobile data speed.
For iPhone owners, just go the App store and search for "speed test", and for Android owners, I'm not sure actually… you can probably just type SpeedTest.net into your mobile browser.
So anyway, I'm wondering if anyone is able to even come close to 10 meg download speed with their mobile phone?