2010 World Cup Bracket, World Cup Schedule, & World Cup Scores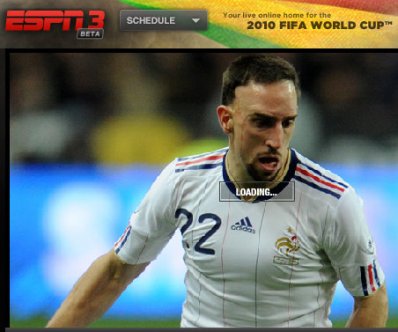 The 2010 World Cup has begun and already we have 1 soccer match under our belts. Earlier today South Africa played Mexico in the opening soccer match that ultimately ended up in a tie score of 1 – 1.
The 2010 World Cup brackets have been nicely laid out on the ESPN SoccerNet website. The brackets for the 2010 World Cup are easy to follow and take you from day 1 (today) to the final match.
Here's a screen shot of the 2010 World Cup Bracket on ESPN's SoccerNet website – visit the website for a full comprehensive view of the bracket: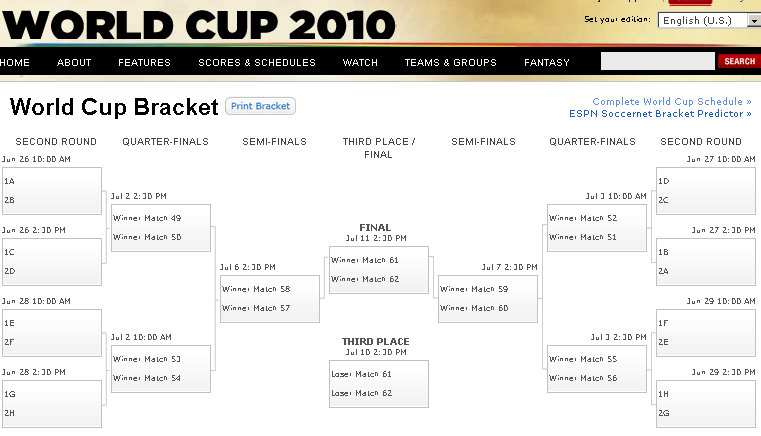 2010 World Cup Schedule & Scores
And once again, ESPN has put together the most comprehensive, easy to read and follow diagram that lays out the entire 2010 World Cup games, the schedule, and the scores as they happen. Again, visit the ESPN website to get the best experience from their graph: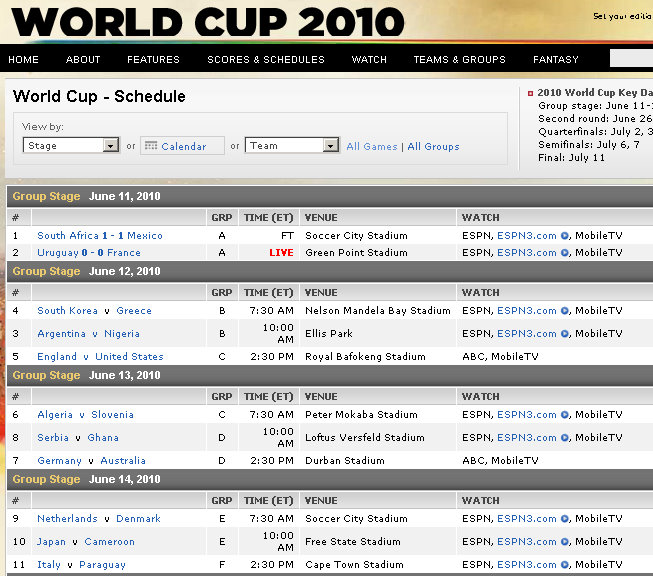 As you can see on the 2010 World Cup schedule and scores above, you are also given the times and channels to watch the games. The majority of the soccer matches are available on ESPN3.com and MobileTV.
The best way to watch the 2010 World Cup online live is at ESPN3.com – live coverage of all of the World Cup games can be viewed there.