2010 World Cup Live Online Streaming, Watch World Cup Games Online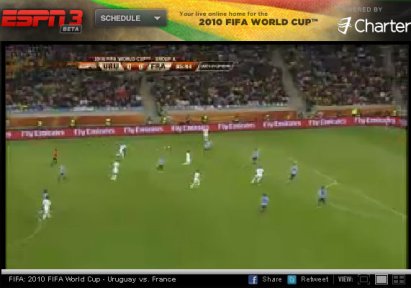 Want to watch the 2010 World Cup live online, real time streaming on the web? Then the best place to do that – at least from what I've seen – is at none other than ESPN3.com. At ESPN3.com, it looks like each and every game of the 2010 World Cup is going to be streaming live online.
I've gone to the ESPN3.com site and right now Uruguay and France are playing in their debut game. The score right now is 0 – 0.
ESPN3.com is definitely going to be a great resource to watch the 2010 World Cup Games online – that way, no matter where you are in the world, or what you are doing, you can tune into the latest game being played in the World Cup.
There are other ways to watch live, online web streaming of the 2010 World Cup games, and that is through MobileTV.
AT&T MobileTV:
Right now, the only way I know of to get the best quality mobile TV is through AT&T,
Visit AT&T's MobileTV page for more information.
With AT&T's MobileTV – you can literally be anywhere where there's a WiFi or 3G data connection and you can watch the 2010 FIFA World Cup soccer games.
I can imagine for iPad owners, the MobileTV deal would be pretty cool to watch the games.
AT&T's MobileTV is only $9.99 per month and you can watch the following channels right from your MobileTV compatible device:
CBS Mobile, CNBC, Comedy Central, ESPN Mobile TV, FOX Mobile, FOX News, MSNBC, MTV, NBC2Go, Nickelodeon, CNN Mobile, ABC Mobile, Disney Mobile, Crackle.