iPhone 4 Pre Orders, How To, How Much (iPhone 4 Help)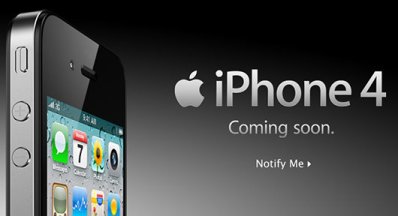 ** UPDATE Juner 14th – Get a more detailed article on how to pre order iPhone 4.
As you probably already know, Apple has announced the new iPhone called iPhone 4. Actually, I'm very glad that Apple didn't come out with a name like iPhone 4G, or something like that because that… well… would have been very misleading since the iPhone 4 is only running on 3G mobile web speed.
Nonetheless, the iPhone 4 is without a doubt the best iPhone to day because:
Larger screen
HD capable video recording
Zoom capable video recording
Multi tasking (once new OS 4 arrives)
2 way video chatting
So the big questions have been – up to now – how do I get this new iPhone 4, how do I pre-order, how much is the new iPhone 4?
How do I pre order the iPhone 4?
The best, and more than the likely the only, way to pre-order your new iPhone 4 is directly from the Apple Store.
Visit the Apple Store here to pre order your iPhone 4.
Pre ordering begins on June 15th – that is next Tuesday (about 4 days from now).
If you visit the Apple Store right now, of course you don't even see mention of the iPhone 4. But on Tuesday morning, more than like the Apple Store web page will be down and you'll see a message that says something like "down for maintenance or updating".
And then, out of nowhere, the Apple Store will come back online and you'll see the big promotion for the iPhone 4, links to pre order, videos, the whole 9 yards.
That's how I'm predicting it to go down anyway.
How do I purchase / how do I get the iPhone 4?
If you aren't up to pre-ordering the iPhone 4 on Tuesday, June 15th, then you can always wait about a week and half until June 24th when the iPhone 4 will be available for purchase.
Now I don't exactly if the iPhone 4 will be in AT&T stores on June 24th, or if it will only be in the Apple Store online.
My guess is that on June 24th, the iPhone 4 will in AT&T stores.
I noticed that AT&T's website is already promoting the iPhone 4 saying that "the iPhone 4 is coming soon".
You can even subscribe via email to get iPhone 4 updates and I'm assuming you'll get notified by AT&T when the iPhone 4 is actually in stores.
How much for the new iPhone 4?
And last, but certainly not least – how much will the new iPhone 4 cost?
The pricing for the new iPhone 4 is pretty straight forward:
$199 for the 16GB model
$299 for the 32GB model
And as a bonus note:
If you are interested in receiving iPhone 4 updates from Apple directly, you can subscribe via email on Apple's official iPhone 4 web page:
Get iPhone 4 updates from Apple via email here.