Google 2010 World Cup Logo, 2nd Google Logo Today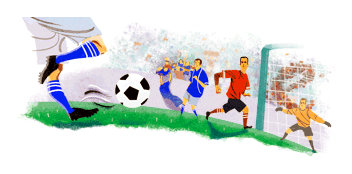 At around midnight this morning, Google changed up their logo to celebrate the 100th birthday of Jacques Cousteau with a Google Doodle Jacques Cousteau style. I wrote a quick article about the Jacques Cousteau Google logo and someone almost immediately asked if he was still alive. The answer is "no" – Jacques Cousteau is no longer alive – he died June 25th, 1997 of hearth failure in Paris, France.
Anyway, I digress…
2010 World Cup Google Logo
Google has just recently – in fact, perhaps within the past 30 minutes or so – changed their Google logo from the Jacques Cousteau celebration to a 2010 World Cup Google Logo.
This would now be the 2nd Google logo of today.
The last time I saw Google change up their logo twice in one day was on day 2 of the 2010 Winter Olympics.
Google is now celebrating the 2010 World Cup that started today. The first game of the World Cup was between South Africa and Mexico which just ended in a tie 1-1.
Here's the 2010 World Cup Google Logo: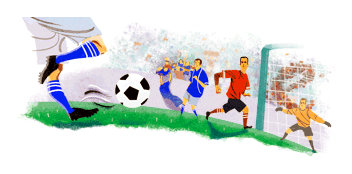 Here's the JacJacques Cousteau Google logo from earlier today: