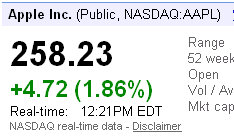 NASDAQ:AAPL – iPhone 4 Pre Order Pushing Apple Shares Higher
Apple shares up on the NASDAQ with the iPhone 4 pre order date coming up tomorrow.
Apple shares (NASDAQ:AAPL) are currently trading up +4.72 (1.86%) at 258.40 as tomorrow is the day that Apple releases the iPhone 4 for pre ordering. You can pre order the iPhone 4 from several locations tomorrow as Apple is preparing itself for a massive wave of demand. Sources state that Apple plans on selling approximately 3 million iPhone 4 devices per month.
Here is a list of the places that I know of for pre ordering the iPhone 4 tomorrow:
Best Buy
Radio Shack
Wal Mart
And of course AT&T
Factors affecting Apple share prices:
June 24th – Official iPhone 4 release date
Some other factors that could be affecting Apple share prices right now is the June 24th release date of the iPhone 4. On June 24th, stores throughout the United States will open their doors to customers who can then purchase the iPhone 4 from the shelves.
FTC investigation launched
Apple is finding itself under investigation from the FTC for certain rule changes made in its App Store. Some of these rules Apple is implementing prohibits certain developer tools as well as blocking mobile ad networks from accessing applications.