Lakers vs Celtics Game 6 – Lakers Are On Fire, Celtics Struggling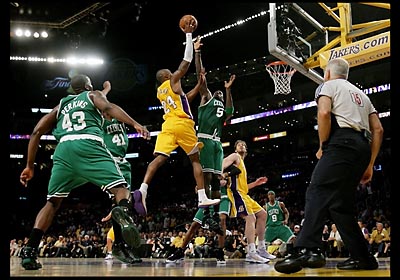 Game 6 of the NBA Finals just went into half time with the Lakers up by 20 points against the Celtics. The Lakers look like a totally different team tonight against Boston Celtics. The most prominent characteristics that sticks out to me is the fact that people other than Kobe Bryant are scoring on the Lakers team. In game 5 in Boston, Kobe Bryant scored 49% of the Lakers total points – tonight, Bryant only has 29% of the total points scored. This means that the Lakers players are stepping up, being aggressive, and making plays on their own without relying 100% on Kobe Bryant. The momentum is clearly in the Lakers favor right now The Lakers are playing harder, being more aggressive, and appear to simply want it more than the Celtics do right now. And like I said, the Lakers are playing as a team allowing the scoring differential to be spread across to other players. If the Lakers come out and keep playing aggressive like they've been playing, then game 6 will go to the Lakers along with the momentum of the series. Not to mention, the psychological advantage that the Lakers will gain over the Celtics with a dominant win tonight.
Let's get ready for the second half of Game 6 of the NBA finals in Los Angeles.