Spain vs Switzerland, First Upset At 2010 FIFA World Cup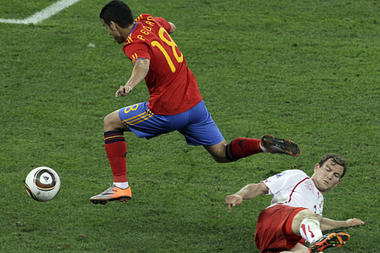 Spain has taken a major blow today at the 2010 FIFA World Cup games by being upset 1 – 0 by Switzerland.
The 2010 FIFA World Cup has finally seen its first real upset of the games in South Africa with Switzerland upsetting Spain in 1 – 0 shocker. Spain was the heavily favored soccer team coming into the game against Switzerland. However, the game just did not go the way Spain was thinking, and the Swiss team caught Spain completely off guard.
Gelson Fernandez just clipped the ball into Spain's goal in the 52nd minute of play and brought Spain's run of 12 straight wins to an abrupt end. Spain has only lost 2 games in the past 50 games they've played. The other only loss that Spain experienced was to the United States in the Confederations Cup in South Africa last year.
This also becomes Switzerland's first win over Spain.
The 2010 FIFA World Cup is being hosted in Johannesburg, South Africa as soccer teams from around the world have to play and compete for the world champion soccer team.
Spain was a favorite to win the 2010 FIFA World Cup. But with 1 loss now under their belt, statistics show that never has a team with a loss ever gone on to win a World Cup.
Could Spain perhaps be the first team in history to take a FIFA World Cup championship with 1 loss?