2010 US Open Golf, Tee Times (Tiger Woods)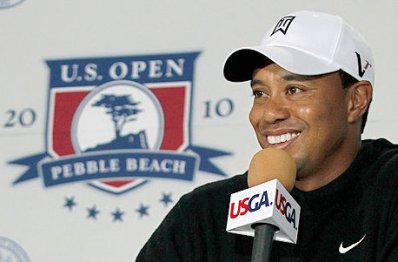 The US Open Golf Tournament is set to begin on tomorrow, Thursday, June 17th. The tee times have been released (see below). All of the tee times released are in Pacific Standard Time since the tournament is being played in Big Sur, California.
As usual, all eyes will be on Tiger Woods who is continuing his comeback. Woods, who has struggled with a neck injury of late, will tee off at 4:36 p.m. EST along with Ernie Els and Lee Westwood in one of the most star-studded groups of the opening round of play. Woods is returning to the scene of one of the greatest performances in professional golf history, where he blew away the field at the 2000 U.S. Open en route to a 15 shot victory.
Els struggled and missed the cut at the Memorial, but he already has two wins to his credit this season and is No. 1 on the PGA Tour money list.
Phil Mickelson, fresh off his inspired victory at the Masters, will begin play at 11:06 a.m. EST with Padraig Harrington and Y.E. Yang. A U.S. Open win by Mickelson would make him the No. 1 player in the world. He could still take over No. 1 in the world if he finishes as low as third, depending on where Woods finishes.
Round 1 Groupings & Tee Times
GROUP
TEE
TIME
PLAYERS
1
1
7:00
D. Pappas
G. Woodland
P. Sheehan
2
10
7:00
R. Cabrera-bello
J. Mallinger
S. Allan
3
1
7:11
S. Marino
G. Havret
C. Warren
4
10
7:11
M. Ilonen
D. Lamely
J. Morrison
5
1
7:22
T. Taniguchi
S. Hansen
E. Molinari
6
10
7:22
B. Gay
S. Khan
B. Van Pelt
7
1
7:33
F. Molinari
S. Kjeldsen
H. Fujita
8
10
7:33
C. Villegas
Z. Johnson
L. Donald
9
1
7:44
T. Clark
K. Choi
M. Weir
10
10
7:44
R. Goosen
J. Furyk
A. Cabrera
11
1
7:55
A. Scott
G. Ogilvy
R. Allenby
12
10
7:55
S. Appleby
R. Sabbatini
S. Ames
13
1
8:06
M. Kuchar
J. Leonard
S. Verplank
14
10
8:06
P. Mickelson
P. Harrington
Y. Yang
15
1
8:17
S. Cink
A – B. An
L. Glover
16
10
8:17
D. Frost
K. Yokoo
E. Axley
17
1
8:28
I. Poulter
Y. Ikeda
H. Stenson
18
10
8:28
N. Watney
H. Mahan
R. Barnes
19
1
8:39
T. Immelman
R. Karlsson
D. Toms
20
10
8:39
J. Dufner
T. Jaidee
R. McGowan
21
1
8:50
J. Gore
A. Atwal
J. Herman
22
10
8:50
K. Na
A – B. Martin
M. Bettencourt
23
1
9:01
A – A. Putnam
T. Tryon
H. Leon
24
10
9:01
C. Barlow
K. Jones
R. Gates
25
1
9:12
K. Eger
A. Martin
J. Curran
26
10
9:12
D. McCarthy
A – J. Bramlett
T. Hampshire
27
1
12:30
S. Wheatcroft
A – M. Hoffmann
R. Karlberg
28
10
12:30
T. Pilkadaris
R. Barcelo
G. Boyd
29
1
12:41
M. Leishman
R. Echenique
J. Rollins
30
10
12:41
J. Lucquin
C. Stroud
G. Maybin
31
1
12:52
R. Mediate
G. McDowell
S. Micheel
32
10
12:52
S. Dyson
J. Henry
A. Cejka
33
1
1:03
D. Duval
T. Lehman
B. Curtis
34
10
1:03
M. Campbell
S. Noh
P. Goydos
35
1
1:14
S. Garcia
S. Stricker
P. Casey
36
10
1:14
A. Baddeley
P. Martin
R. Davies
37
1
1:25
B. Estes
B. De Jonge
B. Davis
38
10
1:25
A. Quiros
R. Moore
M. Sim
39
1
1:36
L. Westwood
E. Els
T. Woods
40
10
1:36
V. Singh
D. Johnson
D. LoveIII
41
1
1:47
B. Crane
P. Hanson
J. Kelly
42
10
1:47
R. Ishikawa
R. McIlroy
T. Watson
43
1
1:58
M. Kaymer
S. O'Hair
C. Schwartzel
44
10
1:58
K. Perry
M. Jimenez
F. Funk
45
1
2:09
H. Slocum
O. Wilson
J. Senden
46
10
2:09
R. Fisher
B. Snedeker
L. Oosthuizen
47
1
2:20
M. Gronberg
A. Yano
H. Frazar
48
10
2:20
D. Summerhays
A – S. Langley
M. Richardson
49
1
2:31
J. Preeo
A – K. Phelan
M. Silvers
50
10
2:31
E. Compton
A – R. Henley
J. Allred
51
1
2:42
K. Kim
A – B. Blakeman
B. Peffley
52
10
2:42
E. Justesen
J. Smith
A – H. Swafford