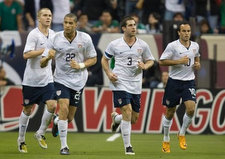 USA v Ghana 2010 World Cup – Watch Live Online USA vs Ghana
This is a day that few people thought we'd see this year in the 2010 World Cup. The United States soccer team has made it to the final 16, and has literally silenced every critic throughout the world that never thought the US would make it this far.
Watch USA vs Ghana live – 2 prime online locations for live streaming
I've been able to find 2 free online sites where I believe you'll be able to watch the live streaming of the USA vs Ghana World Cup match.
ESPN3.com
BBC.com
Click either of the links above to view the USA vs Ghana live online soccer match.
The match between USA and Ghana will take place today, Saturday at 11:30 AM PDT / 2:30 PM EDT.
The United States won its World Cup group for the first time in 80 years. Ghana jumped out to a quick start South Africa, knocking off Serbia 1-0 in their opener. They followed that up with a 1-1 tie against Australia. Ghana are only the second African team to reach the knockout stages [source: ContinentDaily.com].
With the USA soccer team making it this far, and overcoming the critics who thought the US would already be out of the running for the 2010 World Cup, I believe that as far as the US soccer team is concerned, anything can happen – including the US winning the 2010 World Cup!
We'll see…