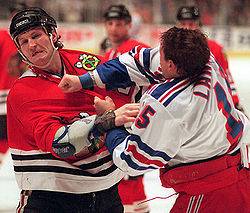 Bob Probert Death – Bob Probert Dies After Chest Pains
The world of hockey has lost one of its legends today (Monday) in Bob Probert.
Bob Probert spent 16-seasons in the NHL with the Detroit Red Wings and Chicago Blackhawks. Bob Probert was not only known as a great hockey player, but also for being a great show on ice with his fights during games.
Bob Probert died Monday after suffering chest pains while boating with his family. He was 45.
According to HuffingtonPost, "Bob lost the fight of his life this afternoon," said Probert's father-in-law, Dan Parkinson, a police officer who performed CPR before Probert was rushed to Ontario's Windsor Regional Medical Center.
Probert was on a boat in Lake St. Clair with his wife, children and in-laws when he "developed severe chest pains" Monday, family friend Rich Rogow told a Monday evening news conference at the medical center.