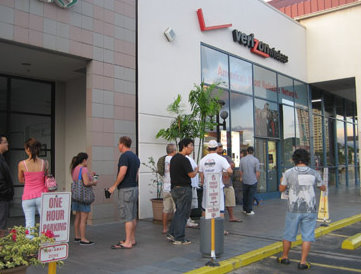 The highly anticipated Motorola Droid X has arrived at Verizon today for it's official debut. One of the biggest concerns that Verizon had was inventory of the Droid X. Verizon wanted to avoid the inventory problems it still has with the Droid Incredible by stocking up the stores with the Droid X for today.
Here is what BGR is getting from their Verizon sources:
"…most stores are selling out of the Motorola Droid X, yet some are having activation issues.  According to BGR sources, Droid X phones are being activated without data (voice only) as the Verizon data system is backlogged. The system isn't down completely, but some Droid X customers are leaving the Verizon store with only voice working on the Droid X handsets. The current data backlog is said to be around 2 hours or more. However, sources are saying that customers are "extremely happy excited" about the new Motorola Droid X, even though they have to wait awhile for the data activation problems."
So there you have it folks, most Verizon customers are excited about the purchase of their new Motorola Droid X with its massive 4.3 inch touchscreen display and the Android 2.1 OS.
Can't wait for the first Motorola Droid X unboxing to hit YouTube – I'll get it posted here ASAP!