Let's all put on our party hats and celebrate – Facebook just welcomed its 500 millionth user. Actually, it occurred sometime this morning according to the official word from founder and CEO of Facebook, Mark Zuckerber.
The growth of Facebook has really only just begun. It was only about 5 months ago when Facebook hit 400 million active users. And that 5 to 6 month time period is about how long it took them to go from 300 million to 400 million.
So at this rate, it would seem reasonable that Facebook would be hitting the 1 billion user mark soon – perhaps sometime next year? Or do you think that Facebook is starting to peek and the new user registration is going to start tapering off?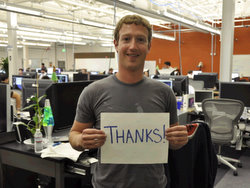 Mark Zuckerberg says no way – in fact, he made an official statement saying just last month, at the Cannes Lions International Advertising Festival,that it is "almost a guarantee that it will happen".
So think  about this for minute – can you remember when you joined Facebook? That is, when did you officially create and start using your Facebook profile? Was it within the last 2 years, last year, or perhaps even the last six months? If you're like most Facebook users, you haven't had your Facebook profile for much more than a year, or two at most.
You can see Mark Zuckerberg tonight on ABC's "World News" in an interview with Diane Sawyer where he will be talking more about the amazing growth rate of Facebook.
Here's Facebook founder and CEO Mark Zuckerberg announcing 500 million users: