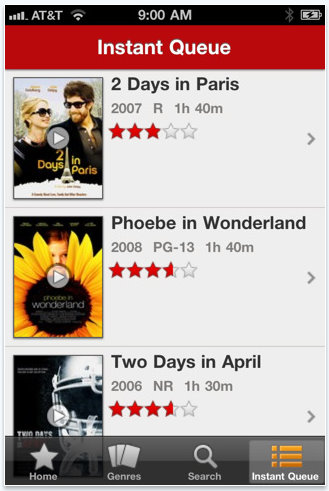 The Netflix app for the iPhone and iPod Touch is now available in iTunes. The Netflix app is free to download, but you do need a Netflix subscription or take advantage of their free 30 day trial.
One of the most demanded iPhone apps to date has been the Netflix iPhone app. Up until now, the iPad has so far been the only beneficiary. But today Apple approved the release of the Netflix app for both the iPhone and iPod Touch.
You can access the Netflix iPhone app in iTunes by clicking here.
The Netflix iPhone, iPad, and iPod Touch app is free, but you'll need to have at least an $8.99 a month standard subscription – or you can get a free 30 day trial.
You'll be able to watch TV shows instantly and stream movies instantly right over your iPhone, iPod Touch or iPad. Watch as many movies as want, resume watching movies that you were watching on your TV or computer, and browse movies right from your iPhone.
You can read more about the Netflix iPhone app.