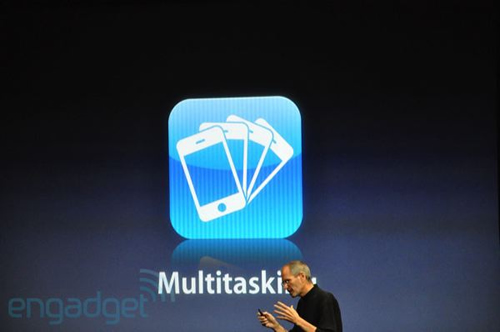 Multi-tasking on the iPhone has been around since April 8th of this year (2010) when Apple released the iOS 4 update. The update is only available to iPhone 3GS and iPhone 4 owners – sorry iPhone 3G'ers.
So if you own an iPhone 3GS or iPhone 4, then here's how you multi-task from your device.
Go ahead and open an application on your iPhone – i.e. email, Safari web browser, iPod, a video game – and while it's open, double click the circular home button on the bottom of the iPhone.
Once you double click the circular home button, then you'll see the bottom of your iPhone screen pop up with a row of most recently, or most actively, used apps from your iPhone.
Then, as you click one of the apps from the pop up screen, you'll then be taken to that application.
Multi-tasking works great if you are in the middle of reading emails, or playing an iPhone game, and then you suddenly need to make a call.
What are some ways that you use multi-tasking on your iPhone?
image via Engadget