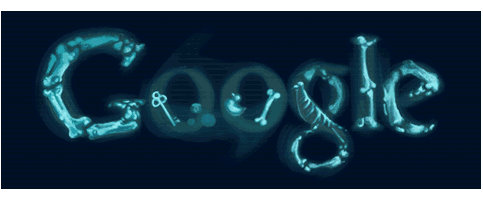 Google celebrates the 115th Anniversary of X-Ray technology
On November 8th, 1895, Wilhelm Röntgen discovered, by accident, how to view the skeletal structure of a human. Through the use of tubes and radiation, the technology that came to be known as X-radiation occurred through electromagnetic radiation.
Also to note in Google's x-ray Google doodle is the pigeon in the little "g".
Google's Marissa Mayer noted that the small 'g' in today's special doodle is a homage to PigeonRank, a past April Fool's joke at the company.
Google's doodles are random ways that Google celebrates historical events. The most notable recent Google doodle was the Pac-Mac Google doodle where you were able to actually play the Pac-Man game directly in the Google logo.