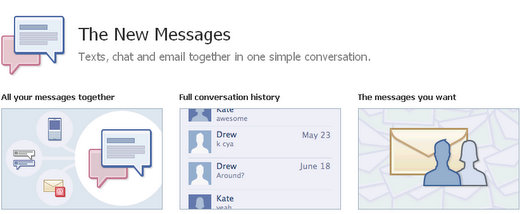 As to be expected, when Facebook launched their new messaging system yesterday it turns out to be nothing like what was anticipated. Most people (including myself) thought we'd get a new, web based email platform. But we got was a whole lot more. Facebook is basically redefining messaging as we know by bringing together, all in place, email, texting (SMS), and IM (chat).
There are three main components of Facebook's new messaging seamless messaging, conversation history, and social inbox.
Seamless Messaging: Facebook thinks we should be able to send messages to everyone, via any messaging channel (text, IM, or email), all from one location. So if you have one friend who likes to get text messages, then you can send them texts from the same platform that you send your other friends email messages. And at the same time, you can be chatting with other friends as well. So basically the new Facebook messaging platform wants to bring all conversations into one location for easy management, archiving, and engagement.
Conversation history: Facebook messaging will have a similar structure to Gmail where all of your conversations are organized in one long sequence. Except Facebook is claiming that their conversation layout will be easy to follow and reference in the future.
Social inbox: Facebook wants your inbox to be social, meaning more messages from your friends and less spam. Within the new Facebook messaging platform, you'll get to divide out your messages based on friends, spam, and "other". That way, you can easily keep in contact with your friends without having to wade through a messy inbox to find those messages that are more personal in nature.
Learn more about Facebook's new messaging service here.