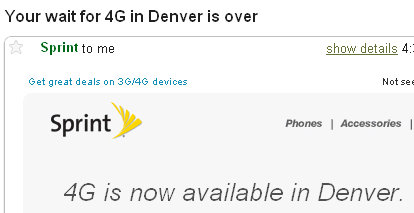 Sprint announced via email yesterday that Denver, Colorado now has 4G coverage.
With the arrival of Sprint 4G in Denver, Sprint's count of cities with 4G coverage rises to 74 cities nationwide – a pretty impressive number.
Sprint's 4G coverage is powered by Clear, and without a doubt, Clear has the best Sprint 4G coverage map where you can view each city on a Google map, and then also view a comprehensible list below the map.
Some recent city launches to note – Sprint is now available in major metro areas such as New York City, Chicago, Los Angeles, and Houston.