LeBron James sends a nasty message to the Cleveland Cavaliers via Twitter after the Cavs took a huge loss to the Lakers at the Staples Center.
Perhaps LeBron James is showing his true colors here with a Twitter update he sent out last night to the Cleveland Cavaliers.
His message, in my opinion, showed how LeBron clearly lacks the leadership necessary to lead a team to the NBA Finals, let alone to a championship.
Here's what LeBron James sent out last night via Twitter after the Cleveland Cavaliers lost 112-57 to the Los Angeles Lakers at the Staples Center: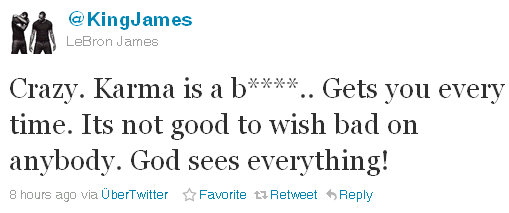 Again, LeBron is a superstar with the entire world watching him, and now the Miami Heat looking to him to be the leader they need to win an NBA championship.
But with actions like that, in my opinion of course, it's an example of why an NBA championship is unlikely to happen – at least with LeBron as the leader.