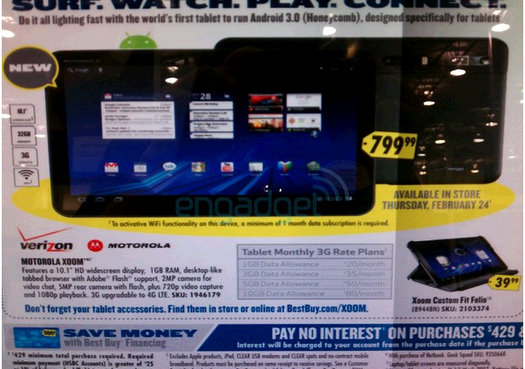 So what did you think of the Motorola Xoom Super Bowl commercial last night? (check out the video below).
Yeah, that looks like a pretty sweet Android tablet, I must admit.
But can someone tell me who, in their right mind, is going to pay $799 for this thing when you can get an iPad for half that?
According to the image above from Engadget, the Xoom is coming to Best Buy on February 24th with a $799 price tag.
I think someone at Motorola needs to be fired to their "let's compete with the iPad" strategy.
Sure, the Motorola Xoom is the world's first Android 3.0 tablet. But is that really saying a lot? And does it really justify a $799 price tag?
Apple is the one who created a whole new paradigm of personal computing with the iPad – not Motorola.
And Motorola doesn't even have their own operating system – they are utilizing Android, much like hundreds of other tablets are doing today.
Here's the Motorola Xoom Super Bowl commercial, in case you missed it: