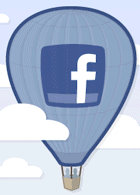 The new and improved Facebook Fan Page has brought some pretty amazing updates. Some updates, like iFrame tabs for pages, are monumental. Other updates, although substantial, have flown under the radar… up to now that is!
How to change your Facebook Fan Page type (or category)
Changing the type of your Facebook Fan Page (or your category) is now a very easy process for admins.
Of course, you must first be an admin of the Facebook Fan Page you want to change.
But assuming you're an admin, here's the step – by – step:
1) Click "edit info" (under new fan page layout – also implies you've upgraded to the new fan page version)
2) Click "Basic Information" – this is found in the tab links along the left hand side of the admin dashboard
3) After clicking "Basic Information", you will now see at the top of the page the "Category" drop down menus.  Simply select the appropriate categories for your Facebook Fan Page
4) Click "Save Changes" at the bottom of the page
That's it – you've just changed the type (or category) of your Facebook Fan Page.