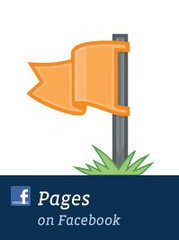 Over the past week, I've been so inundated with following the iFrame tabs for pages update and now the new Facebook comments plugin, that I've somehow overlooked writing about the "filter posts" updates that Facebook Fan Pages now have.
Along with the new Facebook commenting system, Facebook announced an update to Fan Page walls that now allows you, the page admin, to filter your wall stream in just about every way possible.
Here's what Facebook announced via Facebook Pages on March 1st:
We have made updates to the Page Wall, which you will begin to see in the coming hours. You can choose to filter Posts by the Page or from everyone (both Fans and Page). People can filter posts from everyone by Top Posts, which shows most interesting stories, or Most Recent, which shows posts in chronological order. Fans can switch between views by toggling the viewing option in the top right corner of the page wall.
So the "admins" can filter every option as they chose.
Fans also now have the option to filter posts as well, which is a great way to help keep your fans engaged in your on-going, and ever increasing discussions in your wall.
Facebook understands that the path to deeper engagement is more exposure in the wall. The more users are able to find the unique conversations within a wall, the longer users will stay engaged with these conversations and thus the longer they will remain on the Facebook platform.