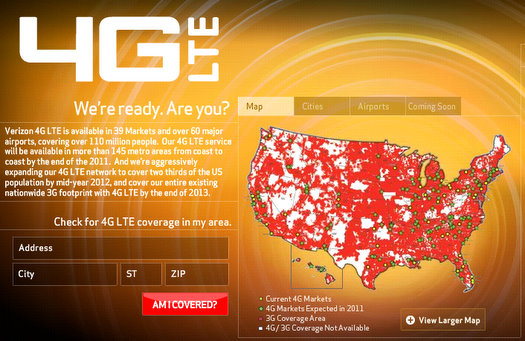 Verizon has a reputation for being the most stable wireless phone carrier in the United States. And although companies like Sprint have been aggressively expanding their 4G coverage, Verizon is quickly becoming the dominant player in this hyper competitive market.
Below is the currently list of Verizon 4G LTE enabled cities in the U.S. along with the list of additional cities that will be turned on by the end of 2011:
Phoenix, Ariz.
Los Angeles, Calif.
Oakland, Calif.
San Diego, Calif.
San Francisco, Calif.
San Jose, Calif.
Denver, Colo.
Washington, D.C.
Ft. Lauderdale, Fla.
Jacksonville, Fla.
Miami, Fla.
Orlando, Fla.
Tampa, Fla.
West Palm Beach, Fla.
Athens, Ga.
Atlanta, Ga.
Chicago, Ill.
West Lafayette, Ind.
New Orleans, La.
Baltimore, Md.
Boston, Mass.
Detroit, Mich.
Minneapolis/St. Paul, Minn.
St. Louis, Mo.
Las Vegas, Nev.
New York, N.Y.
Rochester, N.Y.
Charlotte, N.C.
Akron, Ohio
Cincinnati, Ohio
Cleveland, Ohio
Columbus, Ohio
Oklahoma City, Okla.
Philadelphia, Pa.
Pittsburgh, Pa.
Nashville, Tenn.
Dallas-Ft. Worth, Texas
Houston, Texas
San Antonio, Texas
Seattle/Tacoma, Wash.
Additional areas to be covered by Verizon Wireless' 4G LTE network in 2011 include:
Decatur, Ala.
Huntsville, Ala.*
Mobile, Ala.*
Montgomery, Ala.*
Fayetteville-Springdale-Rogers, Ark.
Fort Smith, Ark.
Little Rock, Ark.*
Tucson, Ariz.
Bakersfield, Calif.
Fresno, Calif.
Modesto, Calif.
Sacramento, Calif.
Salinas-Monterey, Calif.
San Luis Obispo, Calif.
Santa Barbara, Calif.
Stockton, Calif.
Colorado Springs, Colo.*
Fort Collins, Colo.
Fairfield, Conn.
Hartford, Conn.
New Haven, Conn.
Daytona Beach, Fla.
Fort Myers, Fla.
Gainesville, Fla.*
Lakeland-Winter Haven, Fla.*
Pensacola, Fla.*
Sarasota-Bradenton, Fla.*
Tallahassee, Fla.*
Augusta, Ga.*
Hilo, Hawaii
Honolulu, Hawaii*
Kahului-Wailuku, Hawaii*
Lahaina, Hawaii*
Davenport, Iowa
Iowa City, Iowa
Boise-Nampa, Idaho*
Bloomington/Normal, Ill.
Carbondale, Ill.*
Champaign, Ill.
Rockford, Ill.
Springfield, Ill.
Fort Wayne, Ind.
Indianapolis, Ind.
Lafayette, Ind.
Wichita, Kan.*
Louisville, Ky.
Baton Rouge, La.*
Hammond, La.*
Springfield, Mass.
Worcester, Mass.
Hagerstown, Md.
Flint, Mich.*
Grand Rapids, Mich.
Lansing, Mich.
Saginaw-Bay City, Mich.
Starkville, Miss.
Asheville-Henderson, N.C.
Fayetteville-Lumberton, N.C.*
Greensboro-Winston Salem-High Point, N.C.*
Raleigh-Durham, N.C.*
Wilmington, N.C.*
Fargo, N.D.
Omaha, Neb.
Albuquerque, N.M.
Las Cruces, N.M. Santa Fe, N.M.
Reno, Nev.
Albany, N.Y.
Ithaca, N.Y.
Syracuse, N.Y.
Dayton-Springfield, Ohio*
Lima, Ohio
Toledo, Ohio
Tulsa, Okla.*
Portland, Ore.
Allentown-Bethlehem-Easton, Pa.
Erie, Pa.*
Harrisburg, Pa.
Johnstown, Pa.
Scranton/Wilkes Barre, Pa.
State College, Pa.*
Charleston, S.C.*
Columbia, S.C.*
Greenville-Spartanburg, S.C.*
Hilton Head, S.C.*
Sioux Falls, S.D.*
Chattanooga, Tenn.*
Clarksville, Tenn.*
Cleveland, Tenn.*
Dyersburg-Union City, Tenn.
Jackson, Tenn.
Kingsport-Johnson City, Tenn.-Bristol, Va.*
Knoxville, Tenn.*
Memphis, Tenn.*
Beaumont-Port Arthur, Texas*
Bryan-College Station, Texas*
El Paso, Texas
Temple-Killeen, Texas
Provo-Orem, Utah*
Salt Lake City-Ogden, Utah*
Olympia, Wash.*
Centralia, Wash.*
Spokane, Wash.
Charleston, W.Va.*
Madison, Wis.*
Milwaukee, Wis.*
* Indicates a metro area previously announced in 2011
via Verizon.com