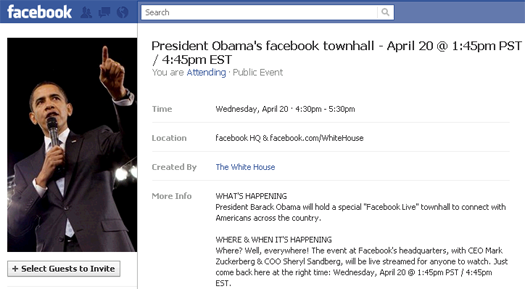 Facebook's HQ in Palo Alto will be the site for the very first 2012 Barack Obama re-election campaign town hall meeting. The Town Hall meeting will be held on April 20th at 1:45pm PST / 4:45pm EST where Facebook CEO Mark Zuckerberg and COO Sheryl Sandberg will host President Barack Obama.
There are already 2,864 people attending the event (at the time of this writing).
Here's info from the Town Hall event page on Facebook:
WHAT'S HAPPENING
President Barack Obama will hold a special "Facebook Live" townhall to connect with Americans across the country.
WHERE & WHEN IT'S HAPPENING
Where? Well, everywhere! The event at Facebook's headquarters, with CEO Mark Zuckerberg & COO Sheryl Sandberg, will be live streamed for anyone to watch. Just come back here at the right time: Wednesday, April 20 @ 1:45pm PST / 4:45pm EST.