A murder-suicide on the Vegas strip happened sometime last night at the Excalibur hotel-casino, causing mass panic as hotel patrons ran for their lives.
According to Las Vegas Police Lt. Ray Steiber, the shootings happened around 8:30pm near the hotel's main entrance.
Here's what happened: A man carrying a gun shot a woman who was a vendor at the hotel's concierge desk. After shooting the woman, the man turned the gun on himself. Police found him dead at the scene.
The woman was taken to a local hospital for medical help, but they later pronounced her dead.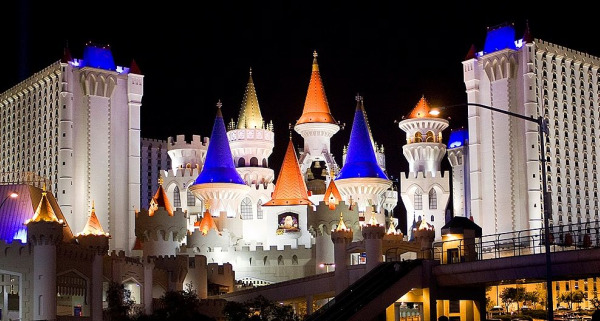 Both the man and the woman remain unidentified, and the relationship between the two individuals still isn't clear. What is clear, however, is that the woman worked at the concierge desk selling show tickets and restaurant reservations.
The Vegas murder-suicide happened on a busy Friday night while the National Finals Rodeo and other popular events were taking place. The streets were crowded, and Steiber claims patrons ran like mad when the first gunshot went off. No one else was wounded.
The Excalibur hotel-casino where the Vegas murder-suicide took place is owned by MHM Resorts International, which owns many other hotels along the strip. Company spokesman Gordon Absher said the hotel remained open even after the shooting and patrons later returned to continue enjoying the hotel. The immediate scene in which the Vegas murder-suicide occurred, however, remained off limits while police conducted an investigation.
The Excalibur hotel has approximately 4,000 rooms and is located at the intersection of Tropicana Avenue and Las Vegas Boulevard.
This kind of activity only adds to the nation's already tense debate over gun control. We'll have to wait and see what kind of actions result from all of this gun-related violence.