A strip club offered to pay Lindsay Lohan $16k to help with her debts and owed taxes. All Lohan has to do, according to the strip club, is host 'chats' with clients. Not strip. Not dance. Just chat.
That doesn't sound shady, right?
Apparently the 26-year-old failing actress is faced with the problem of owing rent for a storage locker – a debt now totaling somewhere around $16k – which the strip club gladly wants to pay. If Lohan doesn't pay the bill, the storage company will auction off the locker's contents sometime in December. The locker is thought to contain personal items, clothing, and family heirlooms.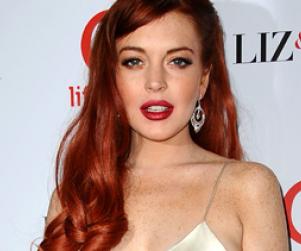 A strip club offering $16k to Lohan is only a small chunk of her actual debts: Lohan owes around $233,904 to the IRS for 2009 and 2010 taxes. But it's hard for Lohan to pay those back since the IRS has since frozen her bank accounts, and rumors says she's begging friends and family members for help.
Charlie Sheen has already offered to pay $100,000 of those taxes, though no one knows what Sheen expects in return, if anything. When asked about paying her debt, Sheen said, "She got shorted and I found out, so I said, 'Here.' I'm still waiting for a text to say thank you. Or anything, you know?"
Lohan also owes another $8,000 in rent for her Beverly Hills mansion. This is in addition to misdemeanor charges in both New York and Los Angeles from an auto accident in November and an assault charge in June, respectively. Both could lead to jail time if she's convicted since she was on probation when both incidents happened.
Honestly, this train wreck continues getting worse, and one can only wonder where it'll end. Will Lohan get it together, or will she crash and burn?