A Chicago lottery winner was killed by cyanide poisoning one day after his $425,000 winnings were issued.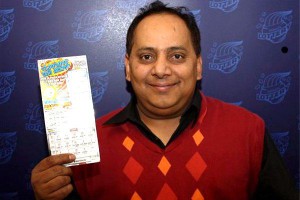 Urooj Khan, the lottery winner, purchased two scratch tickets in June from Ashur Oshana, a clerk at a 7-Eleven on Chicago's North Side. According to Oshana, Khan said he was on hajj, a Muslim pilgrimage, and that he wanted to lead a better life – a life without gambling – but Khan bought two scratch tickets anyway.
Khan immediately scratched the tickets to reveal he won a $1 million prize. Rather than take the amount in installments, Khan opted for a single $600,000 payout check, which came out to about $425,000 after taxes. The winning check was issued by the state Comptroller's Office on July 19, but according to police reports, Khan the lottery winner was poisoned by cyanide on July 20.
Khan's body was transported to the Cook County Medical Examiner's Office, which found no signs of trauma and conducted no autopsy – the office generally did not perform autopsies on individuals 45 and older unless the death was suspicious. Therefore, Khan was considered dead and his winnings were passed off to his estate.
Days later, an unnamed relative came forward to request a more extensive examination of Khan's body. The Examiner's Office then conducted an expansive toxicology screening, which includes all major drugs, prescription drugs, and such poisons as cyanide.
The full results of the screening came back in November, showing signs of cyanide in Khan's system, leading police to initiate a full investigation into Khan's death.
Reporters trying to call Khan's family received no answer, and even knocks on the house were unanswered. Clearly, the family either wants to be left out of the investigation, or they have something to hide.
Only police can now figure out who used cyanide poisoning to kill a lottery winner.