Thanks to a 7-year-old boy, a brother and sister was reunited after 65 years apart.
As if straight out of a novel, siblings Betty Billadeau and Clifford Boyson were sent to separate foster homes when Betty was five and Clifford was three. Though the two spent years searching for each other, they could never find link leading them together.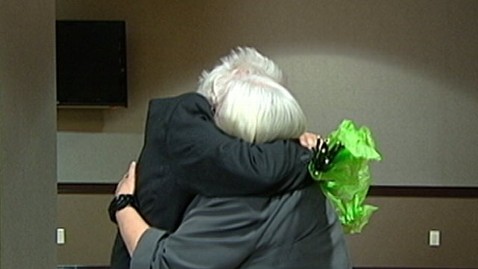 "Nobody would help me until I came and met little Eddit," said Boyson, referring to the 7-year-old who helped reunited the two lost siblings.
The story goes that Eddie was moved by Boyson's story of a lost siblings, so he went on Facebook and began searching.
"I went on Facebook and I typed in Boyson," said Eddie. "There were a whole bunch of pictures that showed up. One of them kind of looked like Clifford and I zoomin in on it and it started to really look like Clifford, [so] I showed it to my mom and dad."
Eddie's father then contacted Billadeau's daughter, to arrange a meeting between the siblings. This past Saturday was that meeting, when the two siblings were finally reunited after 65 years apart.
"You're about the same height mom was!" said Boyson, embracing his sister. He gave Billadeau pink flowers, and they gave him a suitcase, so he would have "no excuses" for not visiting his reunited sibling.
"The one thing he said is he has someone to send a Christmas card to now," said Billadeau.
As for 7-year-old Eddie, he's still helping the siblings achieve their dreams. His next venture is to bring Boyson on a vacation.
"He's never been on a vacation," said Eddie. "And I want him to go on vacation to Disney World with me."
These kind of happy stories are few and far between, but it's astonishing to see so many individuals enriched by the wonder of one little boy.