As of 10:30 am Monday, less than 100 customers in the Omaha area are still without power after an underground electrical equipment fire caused a power outage and a sewer fire explosion. Witnesses claim the fire exploded out of manholes in the downtown area.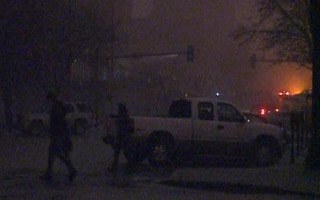 The outage stretched from 11th Street west to 20th Street, from Leavenworth to Farnam. The OPPD claims it will have the power restored sometime Monday evening.
According to Omaha's local news station, the "OPPD says a transformer blew around 5:45 p.m. Smoke was coming from an open manhole after two underground explosions blew off the cover near 17th Street and St. Mary's Avenue. OPPD is still trying to figure out why a cable failed, causing the fire in a network vault."
The sewage fires apparently were extinguished around 7:15pm, and the OPPD crews immediately went to assessing the damage and working to restore power. At the peak of the blackout, around 3,000 customers were without power.
"I had no idea what floor I was on," said Dakota Braun who was stuck in an elevator. "There was probably about five minutes where the lights were off and it was pitch black. All by myself. Never been stuck in an elevator before. It was really scary, actually." Braun was stuck in the elevator for about 30 minutes.
"We used our cellphones and navigated out way in there," said Jen McCune, who was walking to a restroom in a local restaurant when the power went out.
Photographs of the downtown fire explosion are currently circulating the Internet. One such photograph is below, taken with a cellphone camera from the roof of a local building.