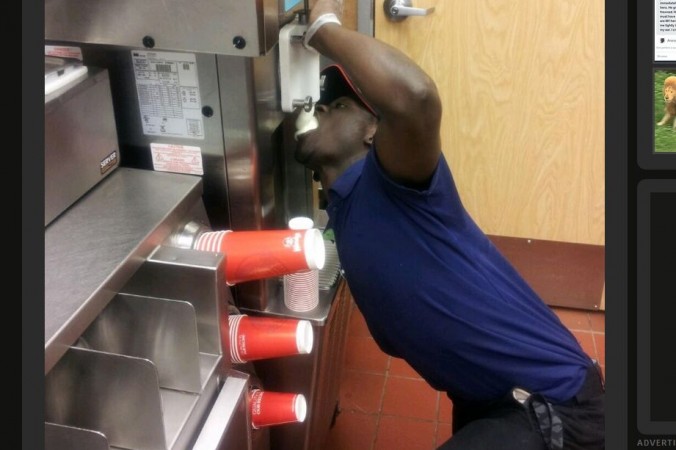 We are no stranger to hearing gross and disturbing happenings that occur at fast food restaurants, but this latest one might top the charts. A Wendy's employee was caught filling his mouth up with ice cream from the Frosty machine directly into his mouth. He was not only caught on camera, but on video too which is now surfacing the internet like wildfire.
The customer that caught the employee in the act was just about to order a Frosty, but after seeing that display, she changed her mind. The photo was snapped by a fellow employee and then he let the internet run with it.
A spokesperson for Wendy's had said that they do not think the photo or event is funny at all and is contacting that specific franchise in order to ensure that immediate action is taken upon this employee, meaning they want him fired. They cited his actions as being totally inexcusable.
The photo came at an awful time for the fast food king that currently is mass marketing its Frosty beverages due to the summer months ahead. It was also promoting its latest waffle cone for the charity, The Dave Thomas Foundation, happening on Father's Day.
The company is going to continue with its charity promotion for Father's Day on Saturday and Sunday. Wendy's is planning on donating fifty cents for every Frosty beverage sold in order to support the effort of matching foster children with permanent homes.
Apparently, the Wendy's employee did not catch the newsfeed of the Taco Bell employee earlier this month licking the taco shells. One has to wonder if this is becoming a trend and think twice about any fast food restaurant. So the moral of the story is, if you have a problem with licking things, seek help and do not enter the food chain business as a line of work.