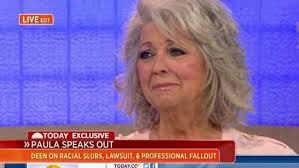 Walmart is just one of the last sponsors to drop celebrity chef Paula Deen over racially insensitive remarks. On Wednesday, despite tearful denials from Deen that she is not a racist, she was dropped by the carrier. Deen's empire includes cookbooks, restaurants and food supplies.
Most people who have watched the news over the past few days have heard about the difficulty Paua Deen has gotten into regarding her corporate sponsors. Deen's troubles started with a response she made about a racially insenstive remark she made as part of a legal deposition Despite attempts to mitigate the damage with a video protesting her innocence, and an interview with Matt Lauer on the Today show. Deen has gotten a great deal of criticism for her remarks. Unfortunately for Deen, she has lost a number of her corporate sponsors such as the Food Network and the Shopping channel who dropped her shows earlier this week. Smithfield Hams, also cut ties with the star. Walmart was the last to leave the pack. It is one of the things that has troubled Deen over the past few weeks. Walmart says it will place no new orders for Deen merchandise.
Deen's use of the N word was in regard to a lawsuit filed by a former employee
Deen says she has not knowingly used "n" word for perhaps the past 30 yeas, however, she is under fire for having admitted to using this slur directed at blacks at all She also has admitted to wishing to have black people dressed up in white dinner jackets for a "plantation style" party she was having.
The celebrity chef's representatives are distributing nice letters supporting the star. However, if this effort will prevent any more damage to the stars reputation, and sales remain to be seen. Deen says she is heartbroken over the incident but time will tell if she will be able to keep her remaining sponsors.