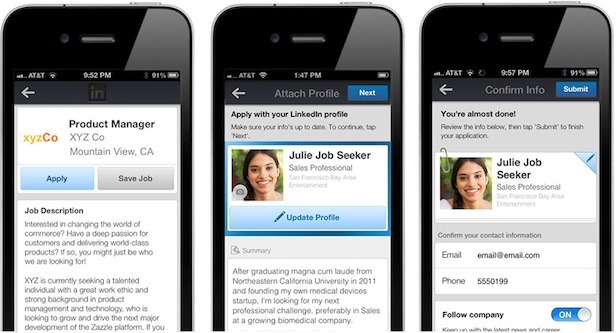 Earlier last month, LinkedIn has announced a couple of updates for its mobile app which would help you in taking advantage of "in-between" events, for example idling for a corporate meeting to begin or perhaps the train to arrive. Among those updates integrated is the capability to hunt for jobs on the move.
Beginning Monday, you cannot only hunt for job opportunities, but also make an application for them as well, straight from your own Smartphone. If you are interested on how this new features works, then keep on reading.
Firstly, open up your LinkedIn application and click on the "Jobs" tab to look for a job position which satisfies your preferences. Every single job placement will offer you the choice to possibly "Save" it for a later time or "Apply" to submit an application instantly. Keep in mind that several job listings can have an "Apply on the Company's Website" button rather. In such cases, the company needs that you apply with its corporate employment website.
As soon as you click on Apply, LinkedIn will tell you in case elements of your current user profile are unfinished. You will have the opportunity to modify your current user profile straight from the mobile application prior to submitting your details. In case your user profile is readily updated, click on the "Next" button at the top.
Within the last screen, LinkedIn is going to prompt you to verify your current contact information, such as phone number and email address. LinkedIn states these types of fields are usually auto-populated based upon the details you have previously supplied on the user profile. If they happen to be outdated, you are able to change your details to guarantee the company has the correct contact information.
As soon as you have verified your current contact information, merely tap the final "Submit" button, and then the application process is complete.