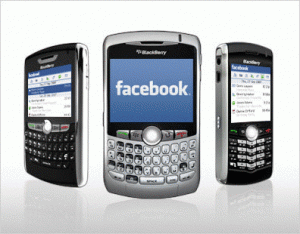 Facebook Fan Pages on Blackberrys
I get questions all the time from people who have a Blackberry and want to update / manage their Facebook Fan Pages from their phone.  Of course the first statement I always get is "well the iPhone has Facebook 3.0 which can do it – why doesn't Blackberry?"
Blackberry does has an app for Facebook, but the app is restricted to only Facebook profiles – not Facebook Fan Pages.
To be honest, I have no idea why the Blackberry doesn't have a Facebook app that allows you to update and manage your Facebook Fan Pages.  If I had to take a guess, it's because Blackberry is not as in touch with their customers needs as Apple is with the iPhone.
There are no Facebook Fan Page apps for Blackberrys
So for those of you who have a Blackberry, you're pretty much stuck to having to access Facebook via the mobile web browser.  There are no Facebook Fan Page apps for the Blackberry – sorry!
In regards to accessing Facebook Fan Pages from your Blackberry's mobile browser, you can follow these 2 steps:
Two ways to update Fan Pages via Blackberrys
1) Go to the bottom of the mobile site through the BB browser and click on "Main Site". You can then work with the non-mobile site, although it can be a little on the slow side.
2) Use an alterate browser, such as Opera Mini or Bolt, to gain access to the main site (not the mobile site). I use Opera Mini to get out to Group and Fan pages. It works quite well.
Anytime you have to access the web via a mobile browser, you are typically slowed down with bad connections, bad page load times, and other unforseen issues that are associated with the mobile web.
Now there may be an app out there that I don't know about that will allow you to update Facebook Fan Pages from your Blackberry, but I highly doubt it.  I'm not saying that because I'm arrogant, it's simply because I've searched high and low on my own, and inquired with a lot of other Blackberry owners.
Let me know if you have a way that's outside of the mobile browser.