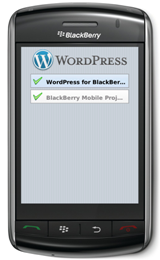 Blackberry WordPress App
WordPress is moving closer to a WordPress for Blackberry 1.0 App.
Recently I wrote about WordPress 2 – the WP iPhone App.  Which is a great app that allows you to create new content from your iPhone, including media such as videos and photos.
Now, I'm excited to see the development moving forward for Blackberry owners.  The WordPress for Blackberry app is moving closer to a 1.0 release, with today's beta version 0.9.0.169 update available.
If you have a Blackberry, you can go here to download it:  http://blackberry.wordpress.org/install
If you are currently using the WordPress for Blackberry app, the next time you open it, you should be prompted to upgrade.
New Features on the 1.0 WordPress for Blackberry App
Based on all the great feedback, we reworked much of the UI layout for the main view, blog view, and media view
Ability to upload videos from your media library
New option to set media file properties (filename, caption, title, and position)
Created a new file browser that resembles the native BlackBerry file browser
Big improvements in the speed at which you can view and manage comments
Lots of optimizations for uploading photos and videos using base64 encoding
Indonesian language support updated thanks to Kate of Pixel Insert
Improved French language support thanks to Yann Nave of blog.onbebop.net
Here are some screenshots provided by WordPress for Blackberry: