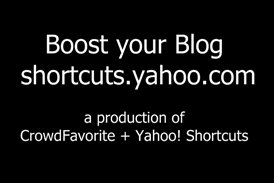 Yahoo Shortcuts
Are you interested in enhancing your blog posts with media, maps, images, and more?
If so, then this new WordPress plugin called Yahoo Shortcuts, might just be your answer.
As you write your blog post, Yahoo Shortcuts will automatically detect pre-licensed content, images, and more to be added to your blog post, and thus enhancing the readers experience.
Here's a quick video to learn more – I wasn't able to embed the video so you'll have to just visit the link:
Also, here's a description from the WordPress plugin page:
"Yahoo! Shortcuts for WordPress plugin intelligently enriches your blog post with great content from Yahoo! Maps, Finance, and beyond. We are excited to make the software code for Yahoo! Shortcuts plugin for WordPress available under the BSD license. Note, however, that the images, designs, logos, modules (including the content and services that flow through the plugin) are provided under the terms located here, which you agree to by activating the plugin."