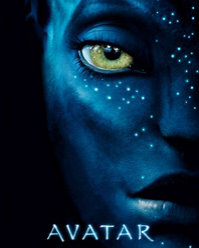 The heavily anticipated movie Avatar premiered in London yesterday.  And reviews of the movie are just starting to hit the web.  From everything I've read so far, the movie is the best thing to ever hit the big screens!
Here's more from ChicagoNow:
– KTLA's Sam Rubin had his eyeballs, well, molested by Cameron's work. It's going straight to the Best Picture category at the Oscars, according to Sam. Here's a little of what he had to say on his blog, while I bite my lip……
Avatar – Official Trailer
"I can report that this is another rare example where the quality of the movie does indeed exceed the hype and "Avatar" will most certainly be among the 10 'Best Picture' nominees for the Oscars; and James Cameron will also be a Best Director nominee."
– The Hollywood Reporter's site crashed after the Drudge Report posted Kirk Honeycutt's review earlier tonight.  As of right now the page won't load.  But according to his Rotten Tomatoes snippet, Kirk found the Na'vi pretty irresistible (and who wouldn't with abs like that?)….
"The screen is alive with more action and the soundtrack pops with more robust music than any dozen sci-fi shoot-'em-ups you care to mention."
I know I can't wait for the film to hit the United States on December 18th, and until then, we can keep our eyes glued to the web to see what everyone in London has to say about Avatar!