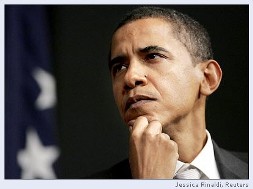 About one week after President Barack Obama made his case of lower deficits to the American people during his State of the Union Address, he presented a $3.8 trillion dollar budget to congress.  And there is really only one word to describe the reception that his budget received, especially amongst Republicans – "BLASTED!"
President Obama's multitrillion-dollar spending plan will boost the deficit to an estimated record-breaking $1.56 trillion.  Something that seemingly goes directly against his plan to reduce the budget – to say that very least.
The USAToday is reporting that "Republicans who spent the past year criticizing Obama's $862 billion economic stimulus package, said the president was being spendthrift by raising the overall budget 3%."
The Republicans also lambasted Obama's plan to let President George W. Bush's tax cuts expire next year for families making more than $250,000.
What are your thoughts about the President's $3.8 trillion dollar budget?
Do you feel that the President is being responsible toward the goal of reducing our national deficit?