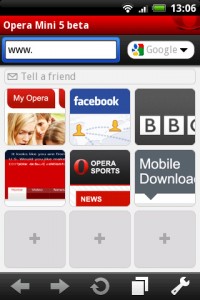 The Opera Mini 5 for Android is now available
The Opera Mini 5 mobile browser has been available for all mobile data phones for about the last 6 months, with the exception of Android powered phones.  Today that all changes with the Opera Mini 5 for Android.
To get Opera Mini 5 Beta, point your mobile browser to m.opera.com/next, you can also search for "Opera Mini" in the Android Market.
According to Mashable, the Opera Mini 5 for Android is nearly identical to the Opera Mini 5 Beta for other handsets; biggest improvements are speed dial, tabbed browsing, password management and better optimization for touchscreen phones. Compared to the old Opera Mini 4.2, it's a world of difference, so if you're an Opera Mini user, you should definitely try out, even though it's a beta.
Here's a demo video of The Opera Mini 5 from last year (haven't found an Android video… yet!)