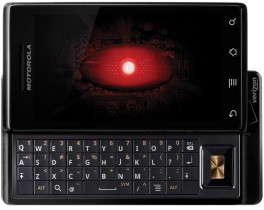 Verizon Begins Updating Motorola Droid with Android 2.1
At the end of last week, Verizon started the process of updating their Motorola Droid phones with the latest Android OS – Android 2.1.
Android 2.1 is the latest version of Google's Android mobile operating system, and the 2.1 version has been running, and comes standard, on Google's Nexus One phone.
But now Verizon is slowly starting to roll out the Android 2.1 update to their popular Motorola Droid phone. The roll out upgrade to the Motorola Droid started at the end of last week and will continue to expand to more Droid users.
According to ZDNet.com, the Android 2.1 update has been causing major 2D slowdowns on the Motorola Droid phone.
They also released this video showing has Android 2.1 was slower than the previous Android version:
The only problem with the claims in the video above is that the phone was upgraded manually to the Android 2.1 OS by using the instructions posted at MobileCrunch and the update image hosted at google.com.
Even though they claim that the update is the same that is being released by Verizon, I would say that the Verizon update should probably be the one to use since it is designed specifically for Verizon's network.
Anyway, the Android 2.1 update will only take about 15 seconds once you start the process. If you own a Motorola Droid, you will receive a message asking you to update your phone – simply follow the steps and that's it.
What do you think – are you finding Android 2.1 to be slower than your previous version of Android?